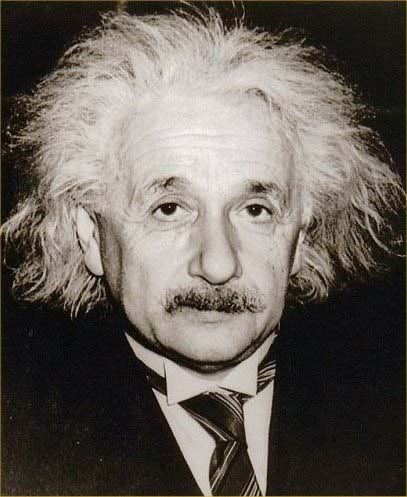 130 years ago today Albert Einstein was born. Let me share a few quotes:
"All religions, arts and sciences are branches of the same tree. All these aspirations are directed toward ennobling man's life, lifting it from the sphere of mere physical existence and leading the individual towards freedom. It is no mere chance that our older universities developed from clerical schools. Both churches and universities — insofar as they live up to their true function — serve the ennoblement of the individual. They seek to fulfill this great task by spreading moral and cultural understanding, renouncing the use of brute force."

"Few people are capable of expressing with equanimity opinions which differ from the prejudices of their social environment. Most people are even incapable of forming such opinions."

"Gravitation cannot be held responsible for people falling in love. How on earth can you explain in terms of chemistry and physics so important a biological phenomenon as first love? Put your hand on a stove for a minute and it seems like an hour. Sit with that special girl for an hour and it seems like a minute. That's relativity."

"I know not with what weapons World War III will be fought, but World War IV will be fought with sticks and stones."

"I believe in intuition and inspiration. Imagination is more important than knowledge. For knowledge is limited, whereas imagination embraces the entire world, stimulating progress, giving birth to evolution. It is, strictly speaking, a real factor in scientific research."

"Laws alone can not secure freedom of expression; in order that every man present his views without penalty there must be spirit of tolerance in the entire population."

"Only two things are infinite, the universe and human stupidity, and I'm not sure about the former."

"The ideals which have lighted my way, and time after time have given me new courage to face life cheerfully, have been Kindness, Beauty, and Truth. The trite subjects of human efforts, possessions, outward success, luxury have always seemed to me contemptible."

"The important thing is not to stop questioning. Curiosity has its own reason for existing. One cannot help but be in awe when he contemplates the mysteries of eternity, of life, of the marvelous structure of reality. It is enough if one tries merely to comprehend a little of this mystery every day. Never lose a holy curiosity."

"The release of atomic energy has not created a new problem. It has merely made more urgent the necessity of solving an existing one."

"Science without religion is lame, religion without science is blind."

"If my theory of relativity is proven successful, Germany will claim me as a German and France will declare that I am a citizen of the world. Should my theory prove untrue, France will say that I am a German and Germany will declare that I am a Jew."

"Insanity: doing the same thing over and over again and expecting different results."

"Reality is merely an illusion, albeit a very persistent one."

"If I were not a physicist, I would probably be a musician. I often think in music. I live my daydreams in music. I see my life in terms of music... I do know that I get most joy in life out of my violin."

"You cannot simultaneously prevent and prepare for war."
or the more extended version:
"The position in which we are now is a very strange one which in general political life never happened. Namely, the thing that I refer to is this: To have security against atomic bombs and against the other biological weapons, we have to prevent war, for if we cannot prevent war every nation will use every means that is at their disposal; and in spite of all promises they make, they will do it. At the same time, so long as war is not prevented, all the governments of the nations have to prepare for war, and if you have to prepare for war, then you are in a state where you cannot abolish war.
This is really the cornerstone of our situation. Now, I believe what we should try to bring about is the general conviction that the first thing you have to abolish is war at all costs, and every other point of view must be of secondary importance."

"If A is success in life, then A equals x plus y plus z. Work is x; y is play; and z is keeping your mouth shut."

"This topic brings me to that worst outcrop of the herd nature, the military system, which I abhor. That a man can take pleasure in marching in formation to the strains of a band is enough to make me despise him. He has only been given his big brain by mistake; a backbone was all he needed. This plague-spot of civilization ought to be abolished with all possible speed. Heroism by order, senseless violence, and all the pestilent nonsense that goes by the name of patriotism — how I hate them! War seems to me a mean, contemptible thing: I would rather be hacked in pieces than take part in such an abominable business."
similarly:
"He who joyfully marches to music in rank and file has already earned my contempt. He has been given a large brain by mistake, since for him the spinal cord would fully suffice. This disgrace to civilisation should be done away with at once. Heroism at command, senseless brutality, deplorable love-of-country stance, how violently I hate all this, how despicable and ignoble war is; I would rather be torn to shreds than be part of so base an action! It is my conviction that killing under the cloak of war is nothing but an act of murder."

"Great spirits have always encountered violent opposition from mediocre minds. The mediocre mind is incapable of understanding the man who refuses to bow blindly to conventional prejudices and chooses instead to express his opinions courageously and honestly."

"You see, wire telegraph is a kind of a very, very long cat. You pull his tail in New York and his head is meowing in Los Angeles. Do you understand this? And radio operates exactly the same way: you send signals here, they receive them there. The only difference is that there is no cat."
It's no wonder i idolise the man. Not only was he a genius, but he shares my views on a great deal of topics. And best of all - he had the quirkiest sense of humour...